Eriksberg is not just a hotel with two award-winning restaurants, a whisky bar and a great spa section with saunas and jaccusis. It is also scandinavia's largest safari park, which you can ride around in with your own car or in a guided tour in a jeep. There are 1600 animals that you get really close to – and then some of them are served in the restaurant in the form of a really good five-course menu.
The story of Eriksberg
The park has a long history, but in today's form it has been around since 1938 when the entire park was bought by filmmaker and zoologist Bengt Berg. Since then it has been developed with hotels and restaurants, but the shape the park had in the 30s, with large savans, waterholes and pastures interspersed with forest remains.
Guided tour of Eriksberg's Safairpark
Our visit to Eriksberg started with a guided tour of the park in a large safari jeep. You can ride around in your own car, but this tour in the jeep gave the experience an extra dimension. Partly that our guide pointed out everything interesting in the park for us, and secondly that the car was clearly more spacious and with more windows than a normal car. It was easy to quickly jump over to the other side if you saw something interesting! And there was so much to see, 1,600 wild animals can be found in the vast 900-hectare park including crown and fallow deer, visenter, wild boar and mufflon.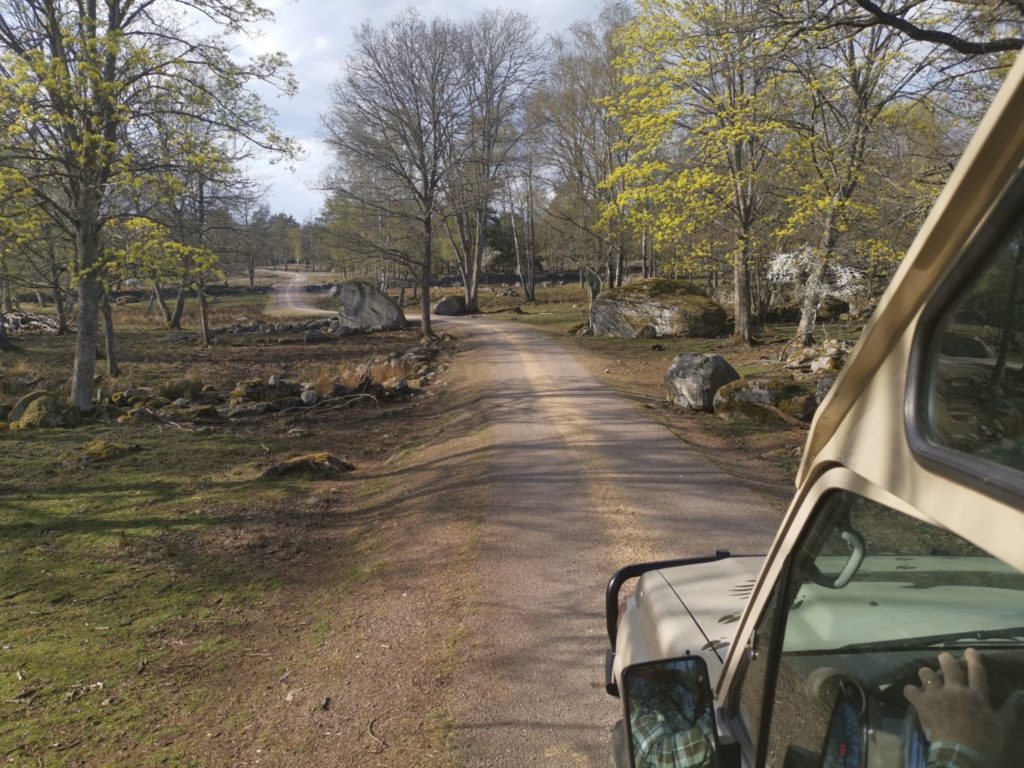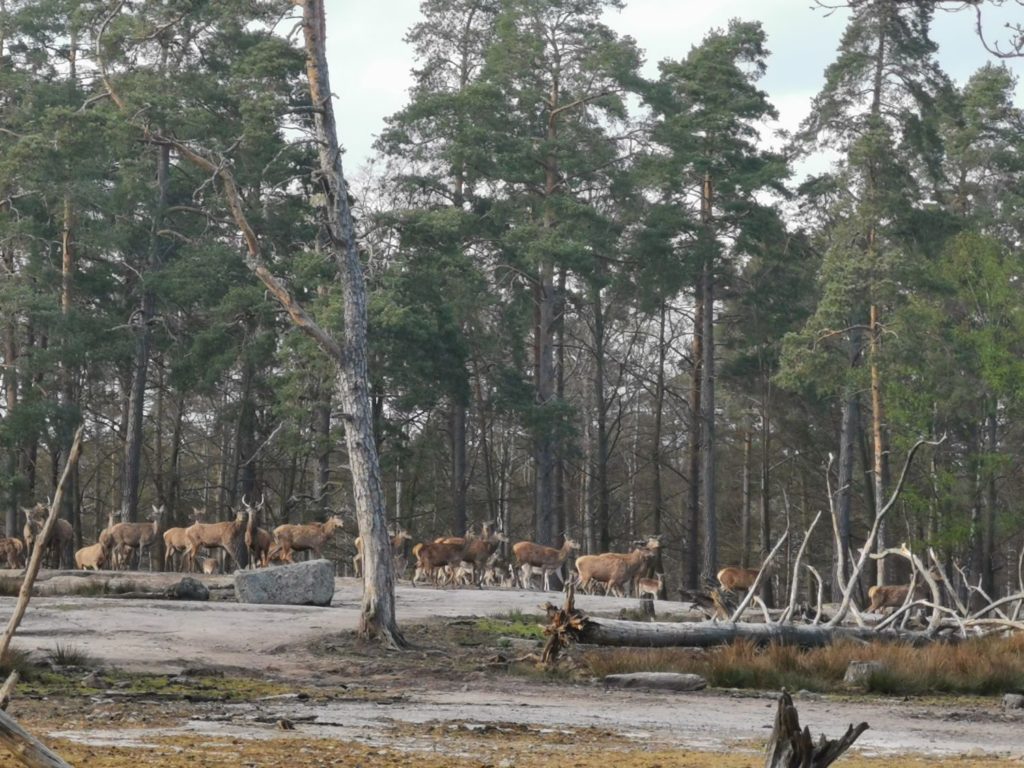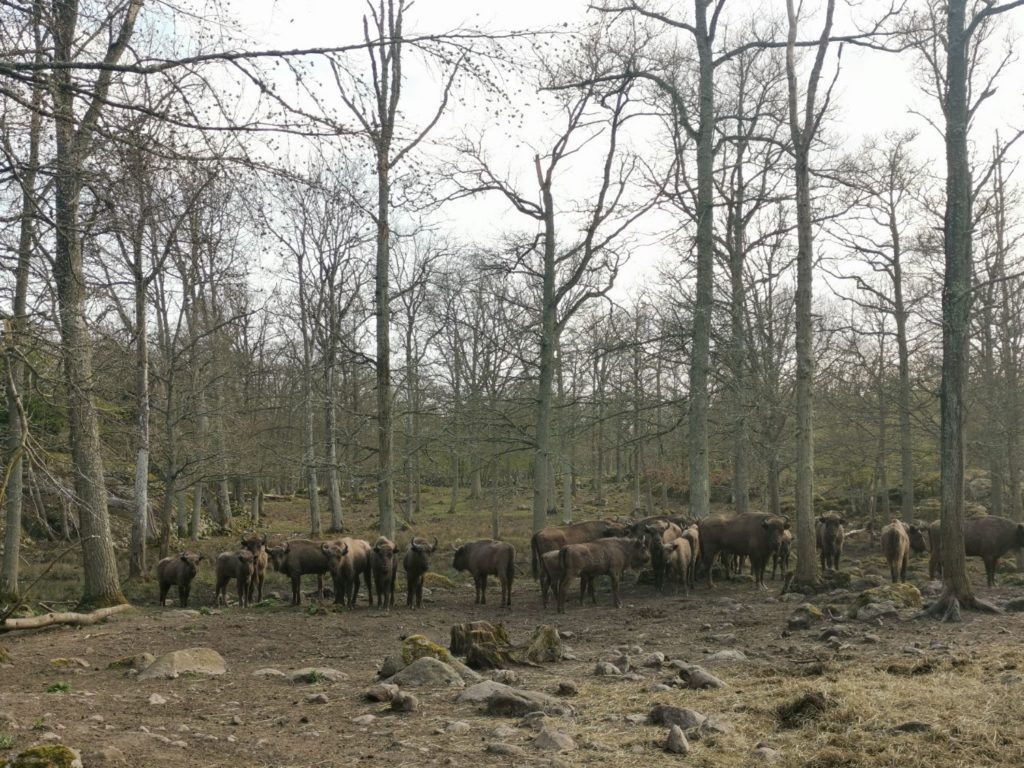 In addition to the animals, there is a fascinating nature in the large nature reserve with beautiful deciduous forests.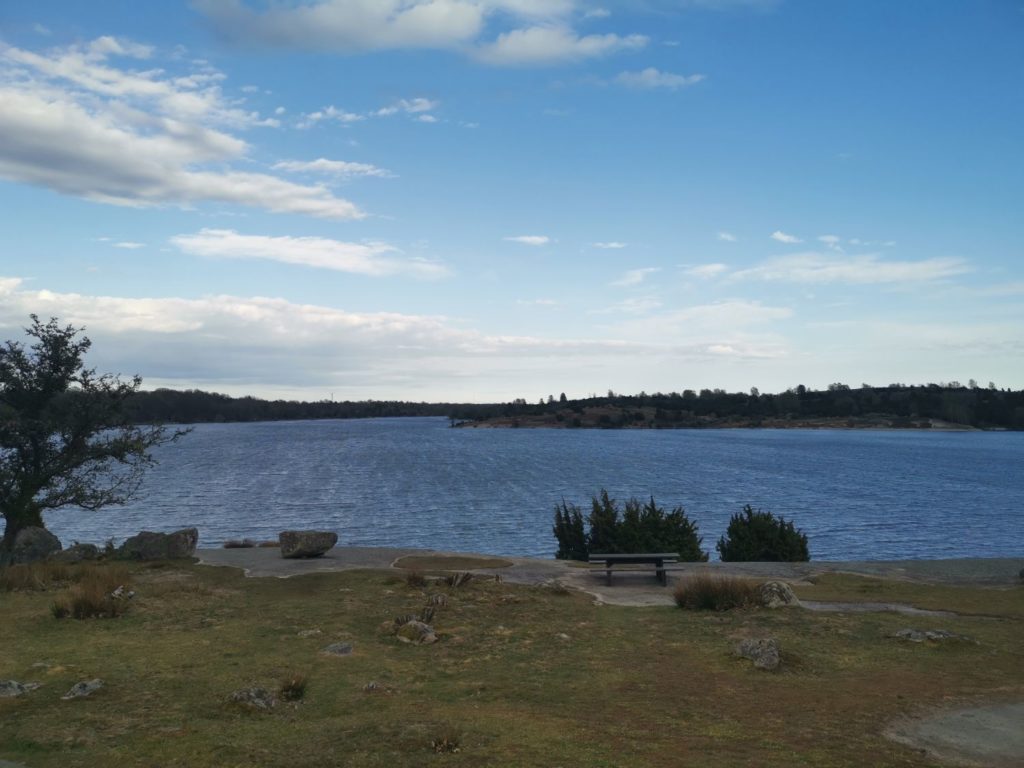 Hotels and accommodation at Eriksberg
There are some different accommodation options at Eriksberg, from glamping in the middle of the park or a private large villa of 750 m2 to a little more ordinary hotel rooms – where we stayed in the latter. Nicely decorated airy rooms – open to nock in the ceiling. A small outdoor front covered in African style overlooking the "savannah" of the park.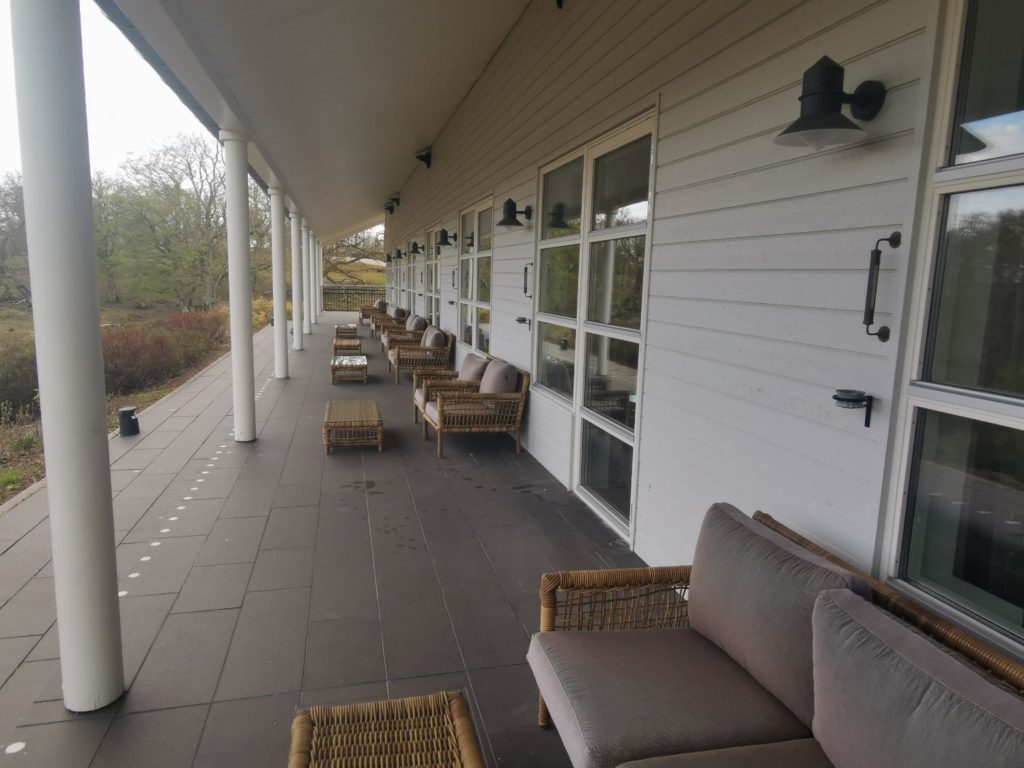 Restaurant at Eriksberg
Eriksberg has two restaurants, one for larger groups – Visenten – where breakfast is also served. The fine-dining restaurant – Havsörnen – is in a manor house where the five-course menu that we had as part of our package would be served. This restaurant has been named Blekinge's best by the White Guide.
In the beautiful building there is a lounge where we started with a glass of champagne before dinner. There is also a good selection of beers and lots of good whiskeys.
Five-course menu at Eriksberg's restaurant Havsörnen
The package we had included a five-course menu that started with a some meat and small snacks – like all the meat on the menu, this was as local as it can get – the meat comes from animals in the park. A small plate with foie gras pâté, ham and sausages. Eriksberg's own beer brewed by a local blekingebrewery.
To the menu we took hade a matching wine package, but asked to share it in two and get half glass each of each wine. There is a small risk that the whole wine package and any subsequent whiskey makes the day after a bit tough, which we wanted to avoid! There was also a matching juice package if you wanted to completely skip the alcohol..
The menu started well with Japanese flavors with trout roe, punzu and kohlrabi and a glass of chardonnay.. A little unpredicted flavors to get right here, but for me who loves Japanese food it was a hit!
The next dish was even better – confit duck thighs with hazelnut and grated chestnut. Nice and super good. with a glass of Cabernet Franc.
The main dish red deer loin was the most worked, which came in perfectly fried with wild boar spancetta, shitake mushrooms, lingonberry mushrooms and Jerusalem artichoke together with a strong red wine. Yum!
The first dessert – green apple with oatmeal and cold pressed rapeseed oil was a fresh dessert that got extra boost ed by a glass of semi-dry riesling spätlese.
The last dish was really over the top A nice chocolate cake with coffee and cream cheese cream. A good, a bit heavy dessert that ensured that you left the table well full! To it a glass of Italian recioto divide Valpolicella.
Overall, a really good menu with super good wines. No wonder this restaurant is ranked as one of Blekinge's best!
Whisky in the salon
After dinner we returned to the cozy lounge next door and took in small samples of the ones we thought were most interesting, a 30 year old Talisker and a 25-year-old Talisker that we ordered in 2 cl of each off and shared.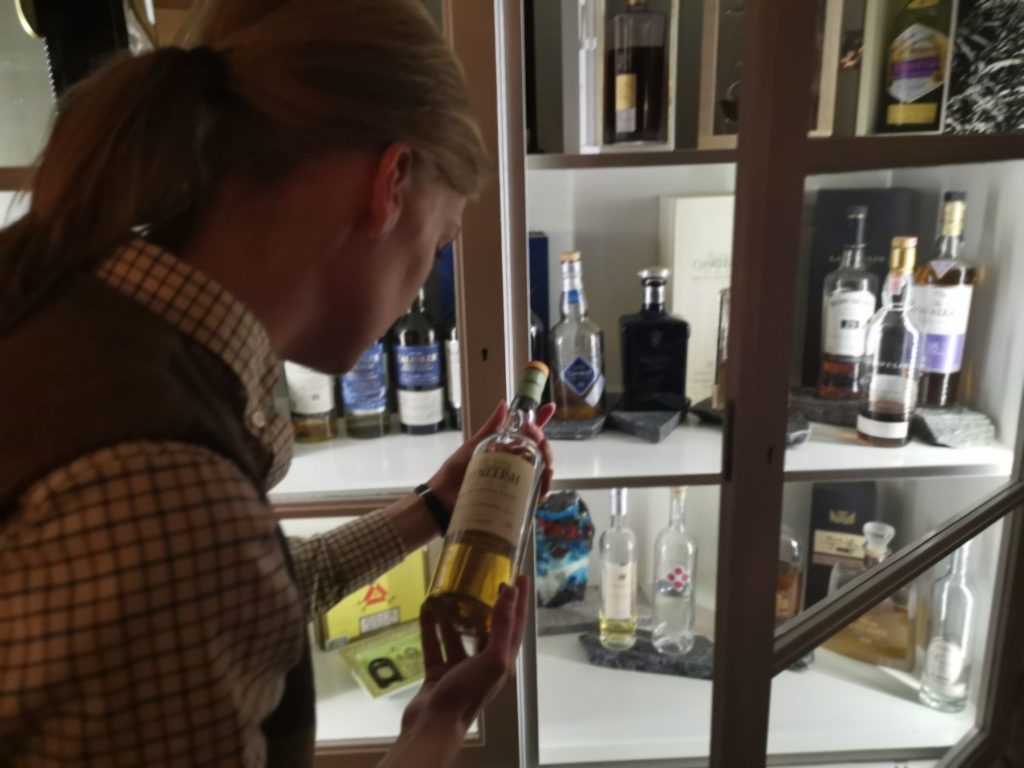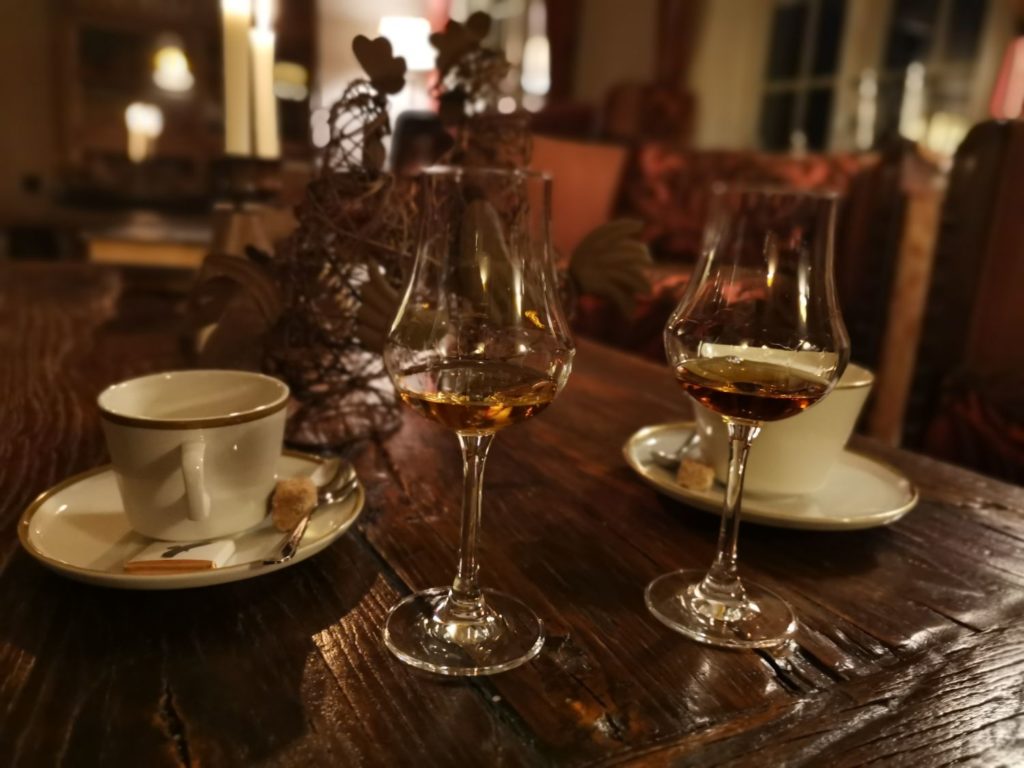 After dinner it had started to rain heavily but was still nice outside, so we sat out the evening outside the rooms in the basket furniture there, protected by a proper roof.
Sauna, hot tub and relax at Eriksberg
There are two large saunas and three large 39-degree outdoor hot tubs overlooking the savannah. where a bunch of visenter often hung. Here we started the next day before breakfast, can not think of a better way to start the day!
In connection there are seating areas and a pool table where I took the opportunity to beat my friend in a party. The bars from high school where we often drove billiards on the breaks sit in!
Breakfast in Visenten
Breakfast was served in the second restaurant – visenten. We were served a nice table buffet with toppings and fruit, bread basket and a hot serving with scrambled eggs, bacon and sausage.
All in all about Eriksberg
We had no expectations of the stay here, since neither I nor my friend heard so much about Eriksberg before. But how good it was. Really fun tour with the jeep in the park, super good food with good matching wines and a whiskey selection in the bar that impressed. The icing on the cake in one was the large sauna and outdoor bath!
In addition, at a real bargain price – right now you can buy such a weekend package we had with accommodation, entrance to the park and five-course menu for 1495:- pp.
Get here:
If you take the car, you just have to set Google Maps to the correct address. I took the train down. Eriksberg is a 10-minute drive from Bräkne Hoby Station, to which it is 5.5 h from Stockholm.
Read more about the
On Eriksberg's own web here.
More things to do nearby: Take the boat to Tjärö – one of Blekinge's most beautiful islands:
The trip to Blekinge and Eriksberg I did on my own initiative and on my own, but got a silver lining when Eriksberg's CEO and marketing manager took us on a guided tour of the park!